The original 4GHz second generation NanoVNA vector network analyzer, supplied by the team who designed it: nanorfe.com. This is the genuine nanoVNA, not a clone, and performs substantially better than the units you get on Amazon & eBay (take a look at the comparison below!)
We are an official distributor for nanoRFE in the UK, and we use them in our lab every day. They're fantastic devices. Stock is held in the UK for next day delivery!
The V2 Plus4 is the latest hardware version with improved shielding, 4" display, 90dB dynamic range, and 4x the sweep speed of other NanoVNAs.
Features
Latest original hardware

 

- supported by all official software and firmware updates
4 inch

 

display
50kHz - 4GHz

 

frequency range
Low temperature drift

 

- automatic internal calibration corrects for drift errors
High dynamic range (90dB), can measure duplexers (see comparisons and specifications below)
Real-time sweep

 

- shows results as sweep progresses, more responsive than other versions
Faster update rate than other low cost VNAs

 

(0.25s for V2 Plus4, 0.16s for V2 Plus4 Pro, see specifications below)
>1024 max sweep points

 

(with NanoVNA-QT software); more points (up to 65535) are possible depending on the performance of your PC.
S parameter export
Custom calibration kit parameters

 

(with NanoVNA-QT software)
Can be used standalone or with PC.
Supported by latest official firmware, with features:

TDR (time domain reflectometry/distance to fault)

 

allows measuring cable length and discontinuities

 

[example]
Can display smith chart, return loss, SWR, complex impedance, series equivalent (RC/RL), group delay, and more
Port length extension/electrical delay
Marker delta and marker search

 

allows easily measuring minimums and maximums
Enhanced response calibration
Adjustable IF bandwidth, allows measuring crystals (V2 Plus4 Pro)
Adjustable ADF4350 output power
Firmware releases:

 

https://nanorfe.com/nanovna-versions.html

Accepts standard flat-top 18650 lithium-ion battery, includes on-board protection and charging (note: after inserting a battery, connect USB power at least once to activate the battery management IC.)
Package includes
VNA (with aluminum enclosure; fully assembled)
2 x 30cm

 

SS405 phase stable cable
SOLT calibration kit

 

SMA male
USB cable
Touchscreen stylus
Comparison between V2 Plus4 and Keysight Fieldfox
Noise comparison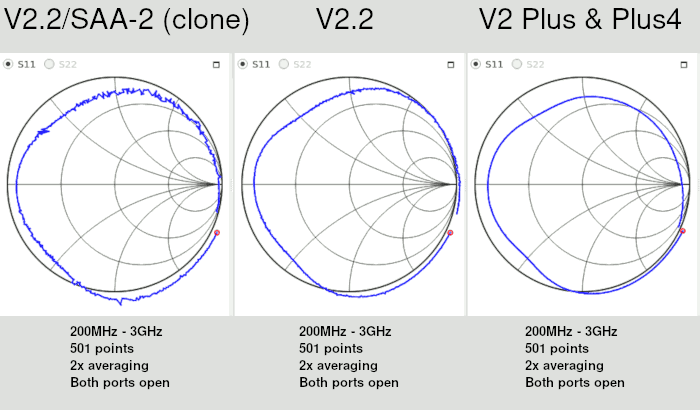 Sample measurements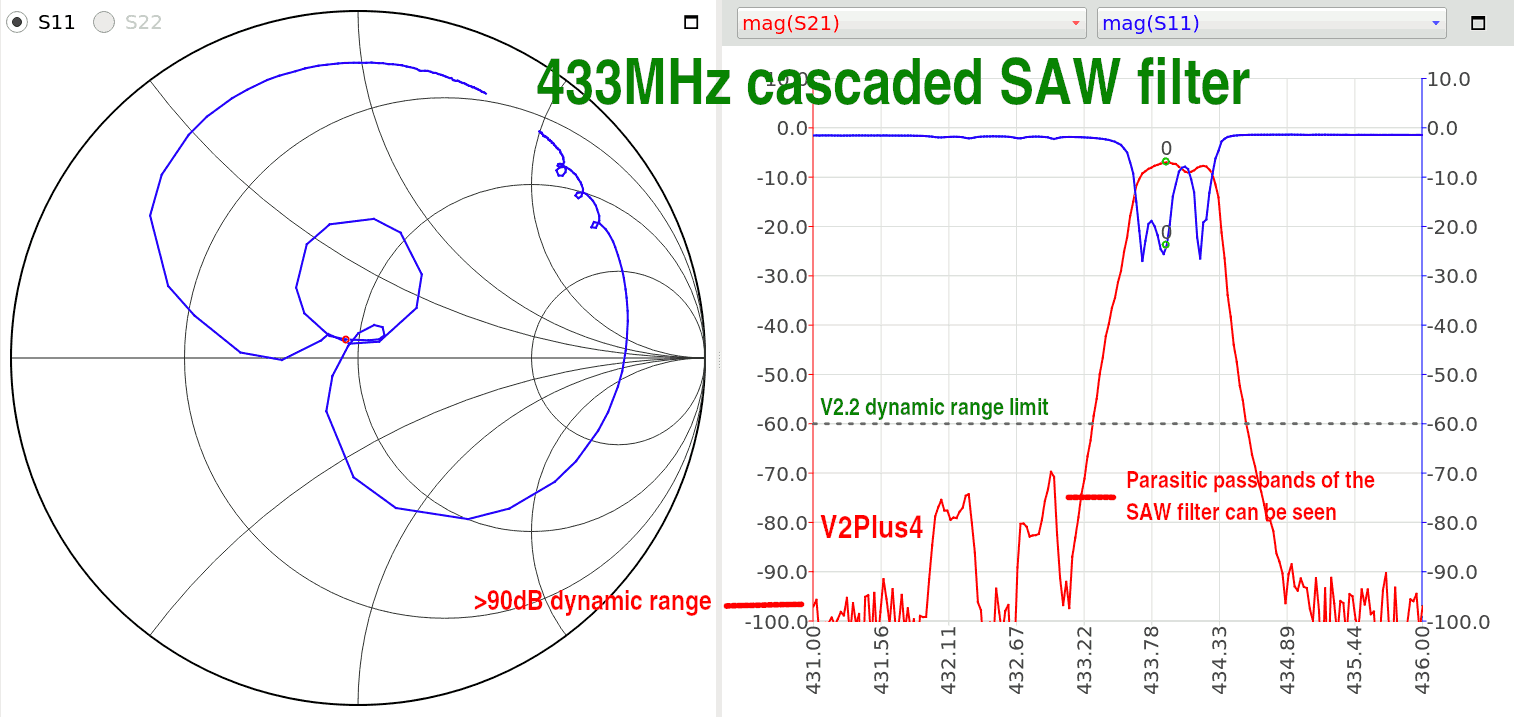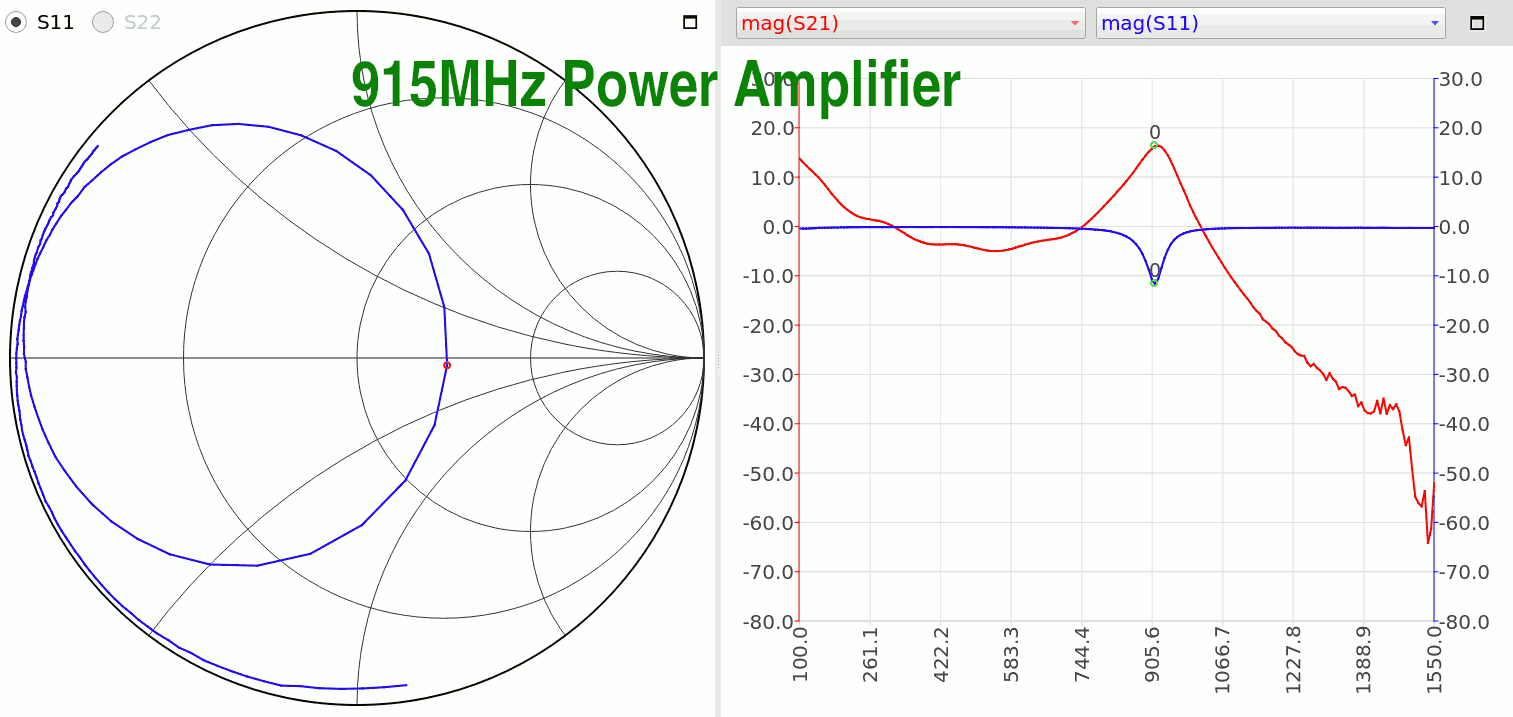 Note: an attenuation of at least the gain of the amplifier should be used when measuring amplifiers.
Documentation & Software
Support
Technical specifications

Frequency range:

 

50kHz - 4GHz
System dynamic range:

90dB

 

up to 1GHz (V2 Plus4, AVG=20)
80dB

 

up to 3GHz (V2 Plus4, AVG=5)
90dB

 

up to 1GHz (V2 Plus4 Pro, BW=1.6kHz, AVG=5)
80dB

 

up to 3GHz (V2 Plus4 Pro, BW=1.6kHz, NO AVG)

S11 noise floor (calibrated):

 

-50dB (up to 1.5GHz), -40dB (up to 3GHz)
Max sweep speed:

 

0.25s

 

per sweep (V2 Plus4, default settings)
Max sweep speed:

 

0.16s

 

per sweep (V2 Plus4 Pro, default settings, BW=10kHz)
Display:

 

4'', 480 x 320
USB interface:

 

USB Type-B
Power:

 

USB
Battery: accepts standard 18650 flat-top lithium-ion battery (see below)
Maximum sweep points:

 

1024

 

(201 on device display) (Note: beware of clones using calibration interpolation to get more on-screen points which compromises accuracy, especially when calibrating with test cables.)
Port 2 return loss (1GHz):

 

20dB typ
Port 2 return loss (3GHz):

 

17dB typ
VNA-QT software supported platforms:

 

Linux, Windows (7+), Mac OS
IF bandwidth: adjustable from 0.8kHz to 10kHz (V2 Plus4 Pro)
Beware of clones with exaggerated specifications that perform poorly!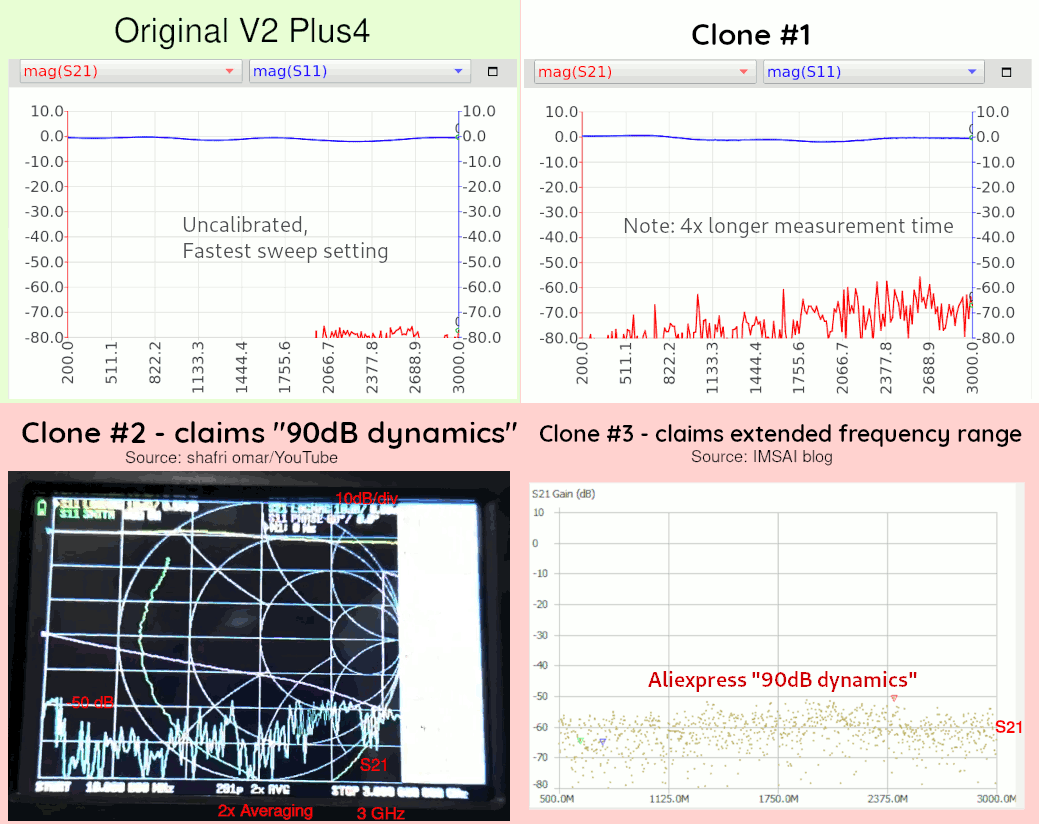 (source)
Battery
Accepts standard 18650 lithium-ion battery. Includes USB charging.
Operation without a battery is also supported.
You can insert a standard 18650 flat-top unprotected 3.6V lithium-ion battery like the following: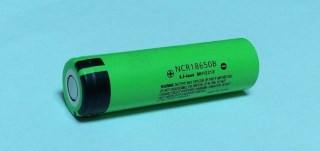 The NanoVNA V2 Plus4 includes on-board battery protection and charging circuitry and can charge the battery from USB. See here for how to insert the battery.
After inserting the battery, you need to plug in USB power at least once to activate the battery management IC.